"She's worked her magic on Nicole Kidman, now she's yours for the asking. Exquisite make-up, either fresh and natural or bold and dramatic... to make YOU more beautiful than you've ever dreamed possible."
- Genevieve Westcott (Communication mentor - Westcott Communications)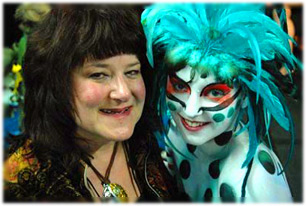 Caroline became a make-up artist shortly after immigrating to New Zealand from England, and spent many years working in the film and fashion industries in New Zealand, Australia and Fiji.
As her expertise has grown it has continued naturally into event productions and flamboyant award-winning body art creations. Caroline has worked internationally with top photographers, models and celebrities.
Caroline's make-up and body art covers all media with many amazing images to her credit. Her journey as an artist started from a young age; Caroline attended art school in London, painted porcelain figurines for Royal Copenhagen in Denmark and continued painting while living in Tonga and Fiji. Her art is greatly influenced by the patterns in nature and pacific and ethnic themes.